Hey folks, I have arrived safe and sound in Melbourne. Yesterday I went down to the warehouse where the bikes have been stored, charged and in all manner made ready for the trip, to meet some of the guys, and to pick up mine! It is a gorgeous thing of beauty indeed. Here's what she looks like over to the right. The motor has a bit of a whine to it, but I have been informed that has alot to do with the speed limiter. Rides wonderfully, soooo comfortabuls and very sturdy. The dynamo which I initially poo-pooed is actually quite good too, and didn't feel like too much resistance when riding at night. I will be riding it a lot more today, so expect another update if I get time to get near the Interweb.
The other rather cool thing I got was a brand spanking new Crumpler bag – they are sponsoring the ride, and each rider gets a Crumpler to show off! In typical style I got a black one. It's big enough to carry anything I'd need on the ride, and very comfy too. YAY CRUMPLER! Below is a pic of Christian, who will be making a documentary of the ride, unwrapping his shwanky million-pocketed Crumpler camera bag, while being filmed by Stephen, and Ilka watching on. Plus you can see one of the very cool cruiser eZee bikes in the background too: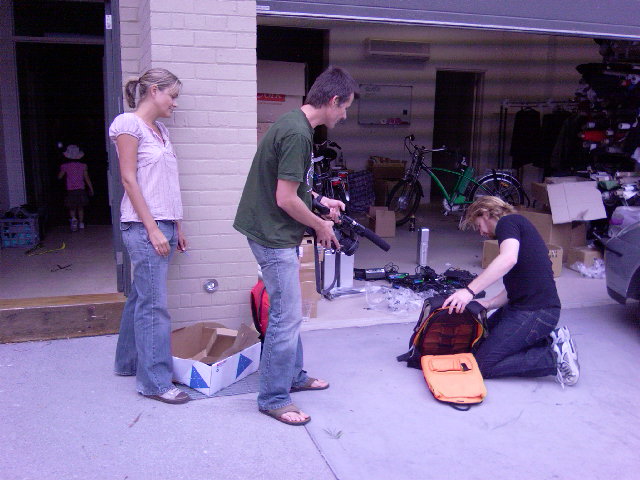 We also had a small meeting in the evening last night for most of the riders to meet and get together. It was pleasantly informal. Unlike the launch; which looks like it's going to be HUGE: Peter Garrett is confirmed to do the honours, which is a great show of support, and Kate Ceberano will be putting in a guest appearance to support her brother Phil who is playing at the launch and doing the whole ride! Stephen says in the last week media interest has gone through the roof and it seems like critical mass has been reached in regarding people believing in the event. Huzzah!
Have had some random intermittent problems with sending email from my phone [grrr] so updates may or may not happen directly from the launch tomorrow. Will see how we go! Wish me luck!
3 comments